Crossing the borders into Corrales is like stepping into a time and place where the stresses of twenty-first-century life give way to the grace and pace of another era. Walkers, bikers, horseback riders, and even carriages are a part of everyday life. The Village is bordered on the east by the Rio Grande, West and North by the City of Rio Rancho, and to the South by the City of Albuquerque. Population 7,300.
The Village of Corrales city office is located at:
4324 Corrales Road Corrales, NM 87048 (directions)
Phone: 505-897-0502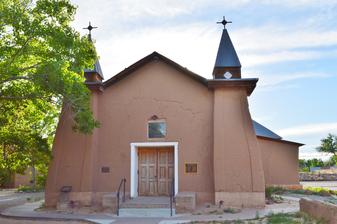 It seems impossible to me that June is already halfway over. True to June, it has been hot and windy. The biggest news for this weekend may be that we are expecting some rain. I know I am looking forward to it, for sure.
This week, at the Village Council Meeting, our newest member of the Corrales police force, Jordan Caizza, was sworn in. Congratulations and welcome, Officer Caizza.  At the same time, we are saying good-bye to Officer Martin LeRoy Fuentes. He is retiring after a long career in law enforcement to pursue a terrific opportunity teaching and training police officers in Texas. Officer Fuentes, thank you for your service and best of luck with your new job.
I want to share a great story of neighbors helping neighbors. Chief Martinez of the Fire Department was able to establish contact with a man whose property had fallen into dangerous disrepair. When the neighbors learned of his plight, they banded together to help their ill and elderly neighbor. Private volunteers all, they cleaned up fallen trees and brush and hauled it all down to last Saturday's Corrales Clean-Up Day. A special thank you to Chief and to those generous neighbors who worked so hard.
Speaking of our Corrales Clean-Up Day, it was a big success. Thanks to all of you who brought STUFF to the Clean-up Day, thereby helping to make our Village a cleaner and safer place. And thanks to our Village employees who made it happen: from Public Works: Chris Gonzales, Mike Chavez, Danny Lovato, Randy Maestas, Ben Gonzales, and from the Fire Department: Chief Martinez, Commander Lattin, and Dennis Chavez. Thank YOU!
This Sunday is Father's Day, a day to honor all things dad-related. Apparently, this tradition dates back to 1907, and gives us a special day to celebrate the fathers in our lives. This Sunday, go to the Grower's Market and not only buy wonderful food to put on the grill, but also listen to music see a wonderful Tractor Show. Sounds good to me!
Have a wonderful weekend.